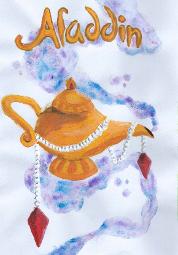 Saturday 7th december 2019
Showtimes: 4pm & 7pm
Central Studio
ALADDIN
PRODUCTION TEAM
Producer: Colin Flaherty
Director: John Eddie
Choreographer: Amy Jones
Lighting Operator: John Eddie
Sound Operator: Matt Harrison
Box Office: Colin Flaherty & Joshua Mendelsohn
TICKET SALES
Tickets go on sale 7th September. Price £9
Tickets can be purchased from our box office / reception desk on a Saturday morning between 09:45 - 10:00 and 12:00 - 12:15. Once we have sold out, we will begin a waiting list on a first come first served basis.
Tickets remaining are as follows:
Matinee - 101
Evening - 101
Below is the rehearsal schedule both as an image and then below that, a downloadable PDF document.
ALL CAST require plain black plimsolls or jazz shoes.
Please have long hair tied back.
------------------------
SHOW DAY ITINERARY
Full dress run 10am – 12pm
Technical run 2pm – 3.30pm

DRESS REHEARSAL

Arrive at Stage School between 9:45am and 9:55am for the morning session. The rehearsal will
START at 10am. PLEASE BE READY TO START ON TIME!!!

We will finish promptly at 12 noon

Please remember to arrive in costume as this is a DRESS REHEARSAL
TECHNICAL REHEARSAL
Arrive at the Central Studio foyer between 1:45pm and 1:55pm and register with Colin

The TECHNICAL REHEARSAL will start at 2:00pm. BE READY IN YOUR DRESSINGS ROOMS AT 2pm. YOU DO NOT NEED TO BE IN COSTUME
ALL CAST STAY WITH US THROUGH TO THE END OF THE EVENING SHOW. BRING A PACKED LUNCH TO EAT BETWEEN THE SHOWS!!
This is not an exact science as things may over-run or under-run with live theatre!
However, please arrive to pick up your child no later than 9:00pm.
We will no leave a child unattended after pick up times but if you are running late, please phone Colin on: 07801 645103
IMPORTANT


Due to the "Safeguarding" part of our insurance policy we cannot allow parents backstage.
As a parent I am sure you will understand this.