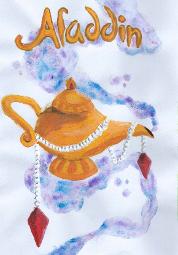 Saturday 7th december 2019
Showtimes: 4pm & 7pm
Central Studio
ALADDIN
PRODUCTION TEAM
Producer: Colin Flaherty
Director: John Eddie
Choreographer: Amy Jones
Lighting Operator: John Eddie
Sound Operator: Matt Harrison
Box Office: Colin Flaherty & Joshua Mendelsohn
TICKET SALES
Tickets on sale NOW. Price £9
Tickets can be purchased from our box office / reception desk on a Saturday morning between 09:45 - 10:00 and 12:00 - 12:15. Once we have sold out, we will begin a waiting list on a first come first served basis.
Tickets remaining are as follows:
Matinee - !!SOLD OUT!!
Evening -
!!SOLD OUT!!
Below is the rehearsal schedule both as an image and then below that, a downloadable MS Word document.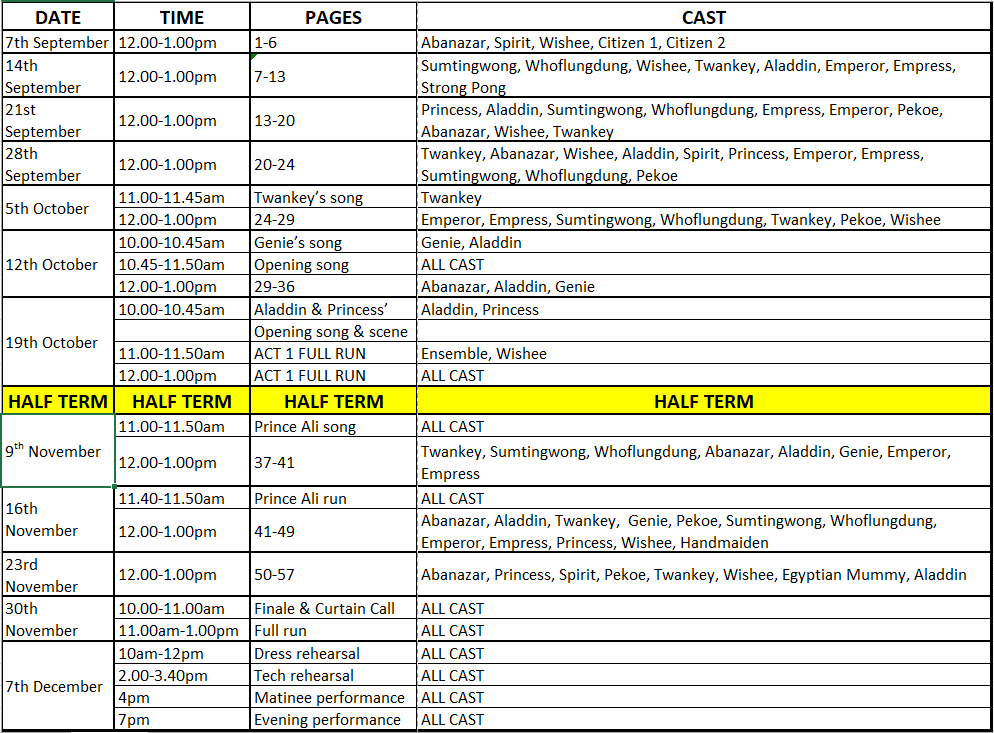 COSTUME
As we go into the half term holidays, please see the below list of costume requirements for the upcoming pantomime, "Aladdin".
On my Google Drive, which Amy has shared the link on Facebook, I have photos of everything we currently have in our own wardrobe department. Some of these may have already been given out to certain cast members as I have needed. However, if there is anything else in there that you think may work, if you need the link to the drive or if there are any questions, please do not hesitate to pop me an email on jeddie999@yahoo.co.uk
Aladdin
Aladdin is going to need 2 costumes. 1 for his "Street Rat" look and one form his "Prince Ali" look.
Street Rat:
Cream, dirty looking baggy trousers
Cream, dirty looking shirt/t-shirt with tears, patches etc
Possibly a purple waistcoat
Black jazz shoes/plimsolls
Prince Ali:
White baggy trousers
White shirt
White/gold turban
White plimsolls.

----------
Abanazar
Black trousers, if gold shine can be added, that would be brilliant.
Red shirt.
Black plimsolls
Black & gold turban
----------
Widow Twankey
Widow Twankey is going to need 2 costumes. One for Act 1 and one for Act 2.
Both should be loud garish and over the top.
Shoes can be either a flat or small shoe (something that can be dance on.
A single wig will work fine, as well as a hat if wanted that can be attached to the wig.
----------
Wishee Washee
Multi-coloured / patchwork trousers
Brightly coloured t-shirt, either a single bold colour or patchwork style like the trousers.
Black Jazz shoes or plimsolls
----------
Princess
The Princess will need 2 outfits. The main outfit, I am looking for a classic Princess Jasmine outfit like the movie/stage show (Just not in blue or red if at all possible)
Main Outfit
Balloon, Arabian style trousers in a bright colour
Arabian style top in the same colour as the trousers
Black plimsolls
Wedding Outfit
Flowing white / light pastel coloured dress (like the one pictured)
Possibly a veil, as this can also be used in the Egypt scene with Abanazar.

----------
Emperor & Empress
Please can both have a Kimono / Kimono style dressing gown with a white vest/t-shirt and black trousers underneath. Black jazz shoes / plimsolls

----------
Genie
Balloon, Arabian style trousers in a blue (the brighter the better)
Arabian style top in the same colour as the trousers
Matching Arabian style turban/hat
Black plimsolls

----------
SumTingWong & WhoFlungDung
Black Trousers
Black shoes (school)
A white shirt with a small black and white checked cravat and black label with "WPC" in white.

----------
Prince Pekoe
Over the top bright trousers (ideally flowing Arabian style)
A white frilly shirt
Brightly coloured cape

----------
Spirit Of The Ring
Similar to the Princess, classic female Arabian style outfit ideally in red, with black plimsolls

----------
Strong Pong
Black trousers
Black shirt/t-shirt
Black shoes
Black mask (either full face or just eyes)

----------
Handmaiden
A white flowing dress
Light coloured pinafore
Black jazz shoes or plimsolls

----------
Magician's Assistant
Classic, sparkly gown of a single colour, likely red or purple.
Matching shoes

----------
Egyptian Mummy
White trousers
White t-shirt
Wrapped in bandages
White plimsolls

----------
Chorus (Including Rising Stars, Citizens 1 & 2, plus any principles in chorus scene)
Black trousers (Full or three quarter length)
Yellow T-shirt with green notches & patches similar to this photo
Black jazz shoes or plimsolls
The best place to get plimsolls, t-shirts, trousers etc is likely to be Primark, cheap and basic, but will do the job.
I look forward to seeing everyone's amazing costumes in the coming weeks
SHOW DAY ITINERARY
Full dress run 10am – 12pm
Technical run 2pm – 3.40pm

DRESS REHEARSAL

Arrive at Stage School between 9:45am and 9:55am for the morning session. The rehearsal will
START at 10am. PLEASE BE READY TO START ON TIME!!!

We will finish promptly at 12 noon

Please remember to arrive in costume as this is a DRESS REHEARSAL
TECHNICAL REHEARSAL
Arrive at the Central Studio foyer between 1:45pm and 1:55pm and register with Colin

The TECHNICAL REHEARSAL will start at 2:00pm. BE READY IN YOUR DRESSINGS ROOMS AT 2pm. YOU DO NOT NEED TO BE IN COSTUME
ALL CAST STAY WITH US THROUGH TO THE END OF THE EVENING SHOW. BRING A PACKED LUNCH TO EAT BETWEEN THE SHOWS!!
This is not an exact science as things may over-run or under-run with live theatre!
However, please arrive to pick up your child no later than 9:00pm.
We will no leave a child unattended after pick up times but if you are running late, please phone Colin on: 07801 645103
IMPORTANT


Due to the "Safeguarding" part of our insurance policy we cannot allow parents backstage.
As a parent I am sure you will understand this.